Description
The technology exists that can help us defeat all types of viral and parasitic infections, known and unknown, on demand. Shown below is one of many patented technologies that uses electricity to neutralize adversarial microorganisms in the bloodstream.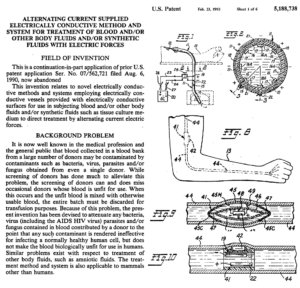 The  SWEEPR® Auto-Immune Booster Portable is a non-invasive implementation of the same technology and has a similar, if not better, effect to the shelved US Patent 5188738 issued on the research and invasive method formulated by Dr. Steven Kaali, et al, and hundreds of other similar patented technologies of the precise use of electric micropulses, which are proven to effectively neutralize all known and unknown parasites, fungus, microbes, and viruses (including HIV-AIDS virus and all COVID19 variants), but does not render the healthy blood cells unfit for the human body.
We have yet to find any organism on this planet that could withstand against an electric current that is delivered at the right electrical pressure and frequency, as this device could deliver. The precise application of low voltage electrical pulses delivered non-invasively to the artery, at the same frequencies found in Nature, is the most logical way of rendering all parasitic and viral adversaries dead on their tracks.
Experts in the field are fully aware that when parasites and viruses in the bloodstream are gone, the full functionality of the autoimmune system is restored, and the actual healing of injuries is significantly accelerated.
We fully guarantee that the proper use of this device can neutralize all known and unknown mutations of all types of viruses on contact, thereby boosting auto-immunity from these viruses.
Advantages & Benefits
Some of the most notable advantages and benefits of using the product according to its protocol are:
neutralize all types of viruses / spike proteins / parasites in the bloodstream on demand
do-it-yourself, no technical / medical background required
non-chemical, non-toxic, supports the auto-immune system rather than compromise it
non-regressive, no long-term side-effects
non-invasive, no post-treatment discomfort and risk
no blood contamination, inherently safe
normalizes blood pressure
non-radioactive, no runaway side-effects
decisively effective, results verifiable in 2-3 months
accelerated wound healing, less scarring on injuries
non-consumable, very low operating cost (entire household healthcare cost is reduced to cost of recharging the 9v battery)
superior product support, welcomes user-specific questions
absolute privacy, no discrimination, no employment risk
With this device and an adequate amount of water intake, your body can get rid of cancer among many other "incurable" ailments that you may be suffering from, and may never suffer from any viral infections in your lifetime again. The restoration of the full functionality of the autoimmune system gradually develop as the adversarial microorganisms' population is reduced, and fully eliminated over time.
Precautions
Please read the List of Precautions from this page.
IMPORTANT: To properly detoxify yourself, it is highly recommended to drink 1 glass [8oz] of water per 10lbs of your body weight. Frequent urination can be minimized by adding a pinch, or two, of sea salt into a glass of drinking water. Please do further research on rehydration, and water-based detoxification.
Ideally, the user must have fully detoxified prior to the next treatment session. Otherwise, the toxins [i.e. neutralized parasites and viruses] could accumulate over succeeding treatments, and compromise the liver and the kidneys, which may then lead to permanent organ damage over time.
Suggested Daily Treatment Schedule
When the user starts the treatment for the first time, the population of the parasites and viruses in the body is at its peak. The high density of the adversaries per volume of blood is the reason why only short durations per daily session are permitted in the first few weeks of the treatment.
Please check the Suggested Daily Treatment Schedule here.
What's in the Box
1 unit SWEEPR Full Spectrum Antiviral Portable
1 unit Treatment Cable with High Grade Stainless Steel Electrodes
1 unit Wrist Strap
User Manual (Downloadable)
1 Year Limited Warranty
Note: Battery is not included due to airline and Customs restrictions.
Before you buy
Before making a purchase, we urge you to thoroughly read and understand all relevant pages on our website to make an informed decision about whether this product is suitable for you. Please respect our mission to provide this technology only to those who truly need it.
For more details, please read the Before you buy page here.
All of the above stipulations are designed to save us the time and allocate the same for production and product support instead.
Package Savers
Other packages are also available for you to enjoy big savings, while providing the best healthcare protection for your loved ones.
Sweepr™ Schoolmate Package, 25 units
Sweepr™ Club Package, 50 units
Shipping
FREE Express Air Freight, or Sea Freight, depending on the size of the order. Note: International couriers prohibit the use of P.O. Box addresses for shipment delivery as consignee signature is required.
Incoterm: CPT*
*Carriage Paid To (CPT) is an international trade term that means the seller delivers the goods at their expense to a carrier or another person nominated by the seller. The seller assumes all risks, including loss, until the goods are in the care of the nominated party.
The risk of damage or loss to the goods is transferred from the seller to the buyer as soon as the goods have been delivered to the carrier. The seller is responsible only for arranging freight to the destination and not for insuring the shipment of the goods during transport.
All other charges, e.g. Customs' duties, are the responsibility of the buyer.
Warranty
All first-owned SWEEPR units are guaranteed fully tested and free of defects in materials and workmanship. We provide one [1] year free labor on repair, and parts found to be defective, under normal use. Please check our Terms and Conditions for more information.
Disclaimer
Mandatory
The devices sold here are not intended to diagnose, treat, cure, or prevent any disease or medical condition. It is designed for general wellness purposes only and is not a substitute for professional medical advice, diagnosis, or treatment. Always consult with a qualified healthcare provider before using this device or any other healthcare product or service. If you have or suspect you have a medical condition, please contact your healthcare provider immediately.
Your Complete Compliance with the Protocol Determines the Outcome of Using this Device
We want to emphasize that when configured correctly, the device's function is solely to neutralize all types of adversarial microorganisms on contact. It does not substitute vaccines or mRNA injections. While the device can efficiently neutralize viruses and parasites on contact, it cannot produce antibodies or alter your genetic makeup whatsoever.
The success of your device usage depends solely on your adherence to the entire Protocol and the effectiveness of the detoxification process, which are beyond our control. Strict adherence to the protocol, including drinking one glass of water per 10 lbs. of body weight, good nutrition, exercise, sleep, and avoiding parallel treatments/medication, is crucial for your treatment's success.
We have observed that cleansing the bloodstream from all types of adversarial micro and nano-organisms, can lead to increased energy levels and accelerated healing of injuries. This phenomenon is likely due to the regeneration of more than 2,000 neuropeptide types, including interferons and interleukins, which naturally occurs when the bloodstream is thoroughly cleansed of infections. As a result, the autoimmune system's integrity is fully restored, leading to improved overall well-being.
On average, the therapy will last up to three months of daily treatment ranging from five to fifteen minutes a day on the first week to two hours per day on the second or third month, depending on your progress. With a good microscope camera, you can document your blood condition before and after 30-day treatment intervals.
You can control the amount of parasites and viruses you neutralize each day by adjusting the duration of the treatment session based on your body's ability to flush them out with high water intake. Longer treatment sessions will neutralize a higher volume of parasites and viruses.
Please note that early signs of detoxification failure include dizziness, headache, fever, skin rashes, fatigue, jaundice, general malaise, etc. If you experience any of these symptoms after a treatment, it means that you have already overdone it beyond your water intake volume can flush out effectively. If that is the case, suspend the next treatment session until the symptoms subside with continued high daily water intake.
Ideally, there should be no accumulated toxic neutralized parasites and viruses in the liver and kidneys before the next treatment. Failure to detoxify properly could lead to permanent organ damage.
As it's impossible for us to do the detoxification procedure for you, you alone will have full control of the outcome of your treatment. So, be responsible for yourself, start with short treatment duration only and record your progress in a logbook, follow the protocol strictly, and take full control of your health condition now!
Finally, the photos may not be reflective of the actual color and design of the item. The specifications of non-critical components may change without prior notice, depending on the availability of raw materials during its production. The overall design of the product may also change in the course of its life with the sole object of improving its usability and fitness for purpose.