Engineered for Emergency Pandemic Response™
Stay Protected Anywhere, Anytime with SWEEPR™
The Ultimate Full Spectrum Antiviral Technology
In today's rapidly evolving world, protecting your health is paramount. Introducing SWEEPR™ – the groundbreaking full spectrum antiviral technology designed to fortify your body's defenses against all types of viruses.
Say goodbye to constant worries about contagious infections and embrace a proactive approach to safeguarding your well-being with SWEEPR™, a Special Weapon Engineered for Emergency Pandemic Response™.
The Power of SWEEPR™
SWEEPR™ is not your average antiviral solution. Our cutting-edge technology utilizes the latest advancements in electromedical research to offer a comprehensive defense against viruses that threaten your health.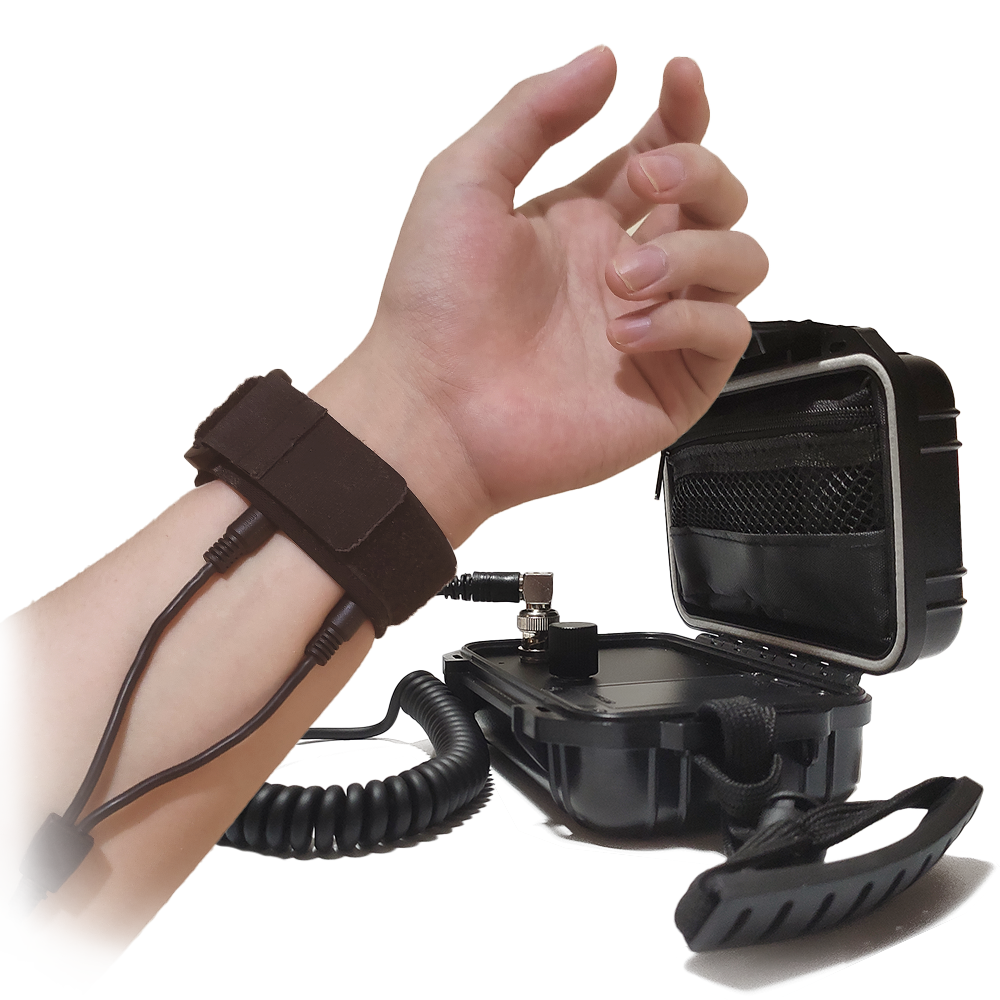 This groundbreaking device is engineered to:
Neutralize Viral Threats: SWEEPR™ employs a 15-year proven and tested noninvasive electronic technology that decisively neutralize all types of viruses and their variants for good!
Full Spectrum Protection: Unlike traditional antiviral solutions that target specific viruses, SWEEPR™ is designed to combat a broad spectrum of viral strains, offering you unparalleled protection. This is your best option against the accumulation of spike proteins in the bloodstream. With a significant reduction in spike proteins and viral infections in the bloodstream, platelets are no longer forced to create blood clots that restrict normal blood flow throughout the circulatory system. Additionally, it frees up white blood cells to efficiently deal with spike proteins and viral infections spread throughout the body. This is achieved through regular physical exercise (in conjunction with the SWEEPR™ treatment), which temporarily raises blood pressure, forcing those autoimmune cells to penetrate the deep recesses and extremities of the human body. Without a reduction in spike proteins and blood clotting first, athletes may experience cardiac arrest during strenuous activity.
Enhance Immune Support: Beyond its antiviral capabilities, SWEEPR™ also stimulates and strengthens your body's natural immune response, providing an additional layer of defense against infections. Expert physicians are fully aware that when the population of parasites and microbes in the bloodstream is reduced, over 2000 neuropeptide types, including interferons and interleukins, are regenerated naturally. This process thereby restores the full functionality of the immune system with highly noticeable benefits.
User-Friendly and Safe: SWEEPR™ is user-friendly, allowing even a 7-year-old to set it up in 3-5 minutes. It requires minimal maintenance, such as rinsing the electrodes after use and weekly recharging of the 9V battery. No utility line voltage necessary.
On Demand Real Time Protection: SWEEPR™ works against existing and incoming viral infections in real time. Its palm-size portability using all-weather outdoor IP68 rated enclosure ensures full spectrum antiviral protection wherever you go!
Why Choose SWEEPR™?
Proactive Defense: Instead of reacting to viral threats, SWEEPR™ empowers you to take proactive measures in safeguarding your health and the health of your loved ones.
Versatility: Whether you are at home, in the office, or on-the-go, SWEEPR™ provides continuous protection against viruses in various settings.
Peace of Mind: With SWEEPR™ as your full spectrum antiviral shield, you can confidently navigate public spaces, travel, and daily activities without constant worry about potential viral exposure.
Trusted Technology: SWEEPR™ is developed by a team of leading experts in antivirology research and electronics engineering, assuring you of its reliability and effectiveness. Trusted by Medical Doctors and Doctors of Physics for the last 15 years!
Virus-Free in 3 Months Guarantee: The SWEEPR™ technology guarantees that your entire circulatory system is thoroughly cleansed of all viral and parasitic microbial infections in 3 months!
Feel the Power of SWEEPR™
In the last 15 years, users of this technology have enthusiastically shared their experiences of increased energy levels starting from the day after the first treatment. With succeeding use, you can also expect to observe the following benefits, among many other significant observable positive gains:
Normalized Blood Pressure: Indicates the absence of parasitic/viral infections that restrict normal blood flow in the artery, and reduce cell injury that needs nutrients and oxygen for healing from red blood cells.
Relief from Chronic Migraines: Proves a thoroughly cleansed and purified bloodstream reaching the brain cells.
Pain Alleviation (e.g., arthritis, dysmenorrhea): Reflects significant reduction of various microbial and parasitic infections.
Improved Skin Texture and Elasticity: Indicates a more purified bloodstream and enhanced regeneration of cells without premature depletion due to microbial consumption, and cell deaths.
Rapid Eradication of Cold & Fever: Suggests a prepared autoimmune system capable of neutralizing new viral infections.
Clear Live Blood Microscopy: If bacteria aren't visible in your blood sample, it's safe to assume the absence of viral infections and engineered spike proteins, due to the electrical nature of the treatment.
Enhanced Nighttime Sleep Quality: With pain alleviated and blood pressure properly regulated, you can naturally afford a good night's sleep, both physically and mentally.
Sustained Energy: Demonstrates the reduction of parasitic infections, allowing more energy for work or play.
Aid in Weight Loss: When no bacteria are depositing fats for their next meal, weight reduction becomes achievable.
Facial Symmetry Restoration: Microbial infections and fat accumulation gone, body symmetry naturally returns.
Accelerated Wound Healing: Thoroughly cleansed blood allows blood cells, platelets, plasma, and fibrin to focus on healing and regenerating skin and other cell types.
Reduced Scarring from Injuries: What happens outside your body mirrors what's happening internally, leading to faster healing of internal injuries.
Huge Savings: Without regular trips to the medical clinic and drugstore, you'll save a lot more of your monthly budget.
Peace of Mind: Even with pronouncements of another pandemic where previous vaccinations are guaranteed not to work.
Other Benefits: Your unique physical condition may bring additional verifiable benefits that are unique to you. Understand that the human body inherently knows how to care for itself; you only need to support it where it's overwhelmed. It will be a liberating experience, and you need to be ready for it.
Real experts in the field are fully aware that when the population of the parasites and viruses in the bloodstream are reduced, approximately 2000+ neuropeptides are regenerated again, e.g., interferons and interleukins, and the full functionality of the autoimmune system is fully restored and ready for the next pandemic.
Embrace Healthcare Freedom with SWEEPR™
Don't wait for viruses to strike – take control of your health and fortify your defenses with SWEEPR™. Join the ranks of health-conscious individuals and science experts who are embracing this revolutionary technology to lead safer, healthier lives behind the scenes and away from all the noise.
Limited-Time Offer:
For a short time, we are offering a special 15% discount on top of the already discounted unit price on your first purchase of SWEEPR™. Use code DEFEND15 at checkout and shield yourself from viral threats.
Start Protecting Your Household Today!
Protect yourself and your loved ones from viral infections daily at a very low cost of recharging a 9-v battery, starting today. Click the link below to order your SWEEPR™ now and experience the peace of mind that comes with full spectrum antiviral technology.
Choose from any of the package savers below…
SWEEPR™ Solo
1 unit
FREE Express Shipping
FREE 90-day User Support
1-year Warranty
30-day Moneyback Guarantee
USD 802.19
US$ 595.29
SWEEPR™ Duo
2 units
FREE Express Shipping
FREE 90-day User Support
1-year Warranty
30-day Moneyback Guarantee
USD 1604.38
US$ 1160.82
SWEEPR™ Fam
5 units
FREE Express Shipping
FREE 90-day User Support
1-year Warranty
30-day Moneyback Guarantee
USD 4010.95
US$ 2827.64
Don't forget to input your coupon code on the next page right after pressing the Add to Cart button.
We process your orders in real-time and ship internationally from the Philippines using the most reliable express couriers, except on Sundays and holidays. Customers from the US, AU, Latin America, and the Middle East can expect delivery within a week. For customers in the UK, EU, and other nearby jurisdictions, delivery is estimated to take up to 15 days. Please note that these estimates are based on normal situations and may be subject to extension depending on local conditions. For assistance, please Contact Us.
Mandatory Disclaimer: SWEEPR™ is designed to offer full spectrum antiviral protection and immune support. While our technology is backed by scientific research, it is not a substitute for medical advice or treatment. Always consult with your healthcare provider for personalized health recommendations.