An investigation conducted by the Observer has raised concerns regarding the influence of pharmaceutical companies on patient care in healthcare services that utilize their products. Major drug companies are channeling substantial amounts of money into struggling NHS services in an effort to boost drug sales in the UK.
The investigation has revealed that these companies are funding groups advocating for increased investment in the areas they specialize in and, in some cases, paying significant consultancy fees to influential healthcare professionals, including General Practitioners (GPs) who have served as clinical leads for NHS England and received up to £480,000 each from the industry since 2019.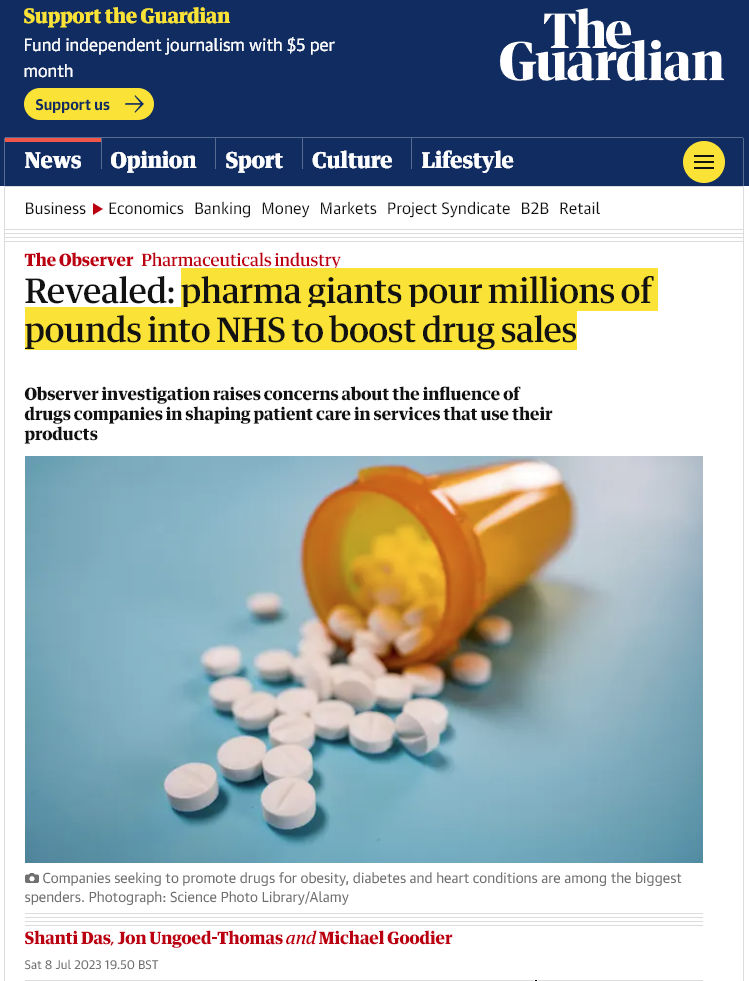 The investigation has uncovered a growing role for Big Pharma in the UK's health sector, with analysis of over 300,000 drug company transactions since 2015 indicating a surge in spending on activities other than research and development (R&D). In 2022, payments to UK health professionals and organizations, including donations, sponsorships, consultancy fees, and expenses, reached a record £200 million, excluding R&D.
Pharmaceutical companies promoting drugs for obesity, diabetes, and heart conditions were among the highest spenders. This total spending nearly doubled the £108 million paid by the industry in 2015, while payments to healthcare organizations almost tripled to £156.5 million during the same period.
These payments include over £29 million in funding to NHS trusts, along with millions more to GP practices and companies supporting NHS care. Furthermore, doctors, nurses, pharmacists, and administrative staff received £43.7 million in payments. The increase in spending raises concerns about the growing influence of pharmaceutical companies in the NHS, especially as the healthcare system commemorates its 75th anniversary.
While drug giants argue that closer collaboration can lead to significant benefits for patients, there are concerns about potential conflicts of interest. The director of the Centre for Health and the Public Interest thinktank, David Rowland, cautioned that cash-strapped NHS trusts cannot afford to be naive about these deals with Big Pharma, as the funding provided is not an act of charity.
In some cases, pharmaceutical companies have gained direct involvement in shaping patient care within NHS services that prescribe their products. This involvement includes overseeing the redesign of treatment pathways for various diseases such as obesity, diabetes, multiple sclerosis, cancer, asthma, and rare disorders. Some companies are even paying the salaries of pharmacists, nurses, and other healthcare staff to work in NHS teams.
For example, the drugmaker Eli Lilly has partnered with a major London NHS trust to optimize the multidisciplinary service for patients with diabetes, obesity, and heart conditions. The corporate documents reveal that the project with the Royal Free in London aims to implement a new model of care and improve treatment by triaging patients to the newly designed secondary care team, potentially resulting in reduced waiting times.
Eli Lilly stands to benefit from an increase in patients prescribed their medications. The company spent £3.5 million on payments to NHS organizations in 2022, a significant increase from £147,000 in 2018. Eli Lilly claims that all payments are publicly declared in adherence to industry codes of practice and emphasizes their belief in working closely with UK partners to ensure access to effective new medicines and support post-pandemic recovery.
Another major diabetes drug manufacturer, Sanofi, has partnered with NHS organizations to review and enhance treatment services, with a potential increase in sales as a result. Sanofi asserts that all their projects are transparent and ethical, and they share a common goal with the NHS of improving patient outcomes.
In some instances, the decision to collaborate with the NHS, particularly during a period of great pressure, seems to be part of a strategy. A pharma industry consultancy firm advises clients on its website that this is an opportune time to collaborate and set up capacity-busting programs, which could be the single biggest opportunity for companies to quickly boost sales.
They provide an example where they assisted in launching discrete, dedicated injection clinics in conjunction with NHS ophthalmology services. The intention was to prescribe the client's product in trusts facing significant delays. These clinics operated outside regular hours on NHS premises and were staffed by NHS personnel during their time off. The initiative resulted in increased patient access to the therapy and a significant boost in the drug company's sales.
In addition to partnering with NHS trusts, pharmaceutical companies are also making payments to influential doctors as they seek to expand the use of their blockbuster drugs. One notable doctor, Dr. Yassir Javaid, a Northampton GP and former NHS England regional clinical lead, received the highest individual payments from pharmaceutical firms in 2022, totaling £132,390 in fees and expenses.
Since 2019, he has received £483,561. Dr. Javaid has appeared in sponsored presentations promoting certain diabetes drugs, including those manufactured by companies from which he has received payments. Dr. Javaid asserts that he voluntarily appears on the Disclosure UK database, accurately discloses his interests, and his sponsored educational sessions promote evidence-based and guideline-recommended use of treatments.
Major drug companies like AstraZeneca, Eli Lilly, and Boehringer Ingelheim are among the firms making payments to GPs. The largest spenders on non-R&D payments in the UK health sector include Sanofi, which spent £16 million in 2022, GlaxoSmithKline with £14.7 million, and Novartis with £14.3 million.
The Association of the British Pharmaceutical Industry (ABPI), a trade body that publishes the Disclosure UK database, ensures companies are transparent about payments and prohibits payments that constitute inducements to prescribe or promote a medicine.
The ABPI's director of medical affairs, Dr. Amit Aggarwal, states that there is greater transparency than ever in these arrangements and highlights that partnerships between drug firms and the health sector can bring significant benefits to patients. He emphasizes that collaborative projects abide by the industry's strict code of practice, which goes beyond legal requirements.
NHS England states that collaborations with the industry help patients benefit from faster access to innovative treatments. It is not uncommon for the industry to provide funding to support service delivery in areas such as improving cardiovascular health, tackling infectious diseases, or introducing innovative cancer therapies.
The organization assures that strict safeguards are in place to manage conflicts of interest.