Albert Bourla, the controversial figure leading Pfizer as its CEO, has risen to become the most handsomely compensated executive within the pharmaceutical sector.
According to a report by In Vivo, Bourla's total remuneration for the previous year skyrocketed to an astounding $33 million. His accumulated salary since 2019 falls just short of $100 million.
In addition to this substantial income, Bourla has amassed significant wealth through the sale of Pfizer shares. Notably, he divested 222,328 shares of Pfizer stock at the conclusion of the prior year, yielding him a considerable sum of over $6 million.
Presently, he maintains ownership of approximately a quarter of a million shares in the company.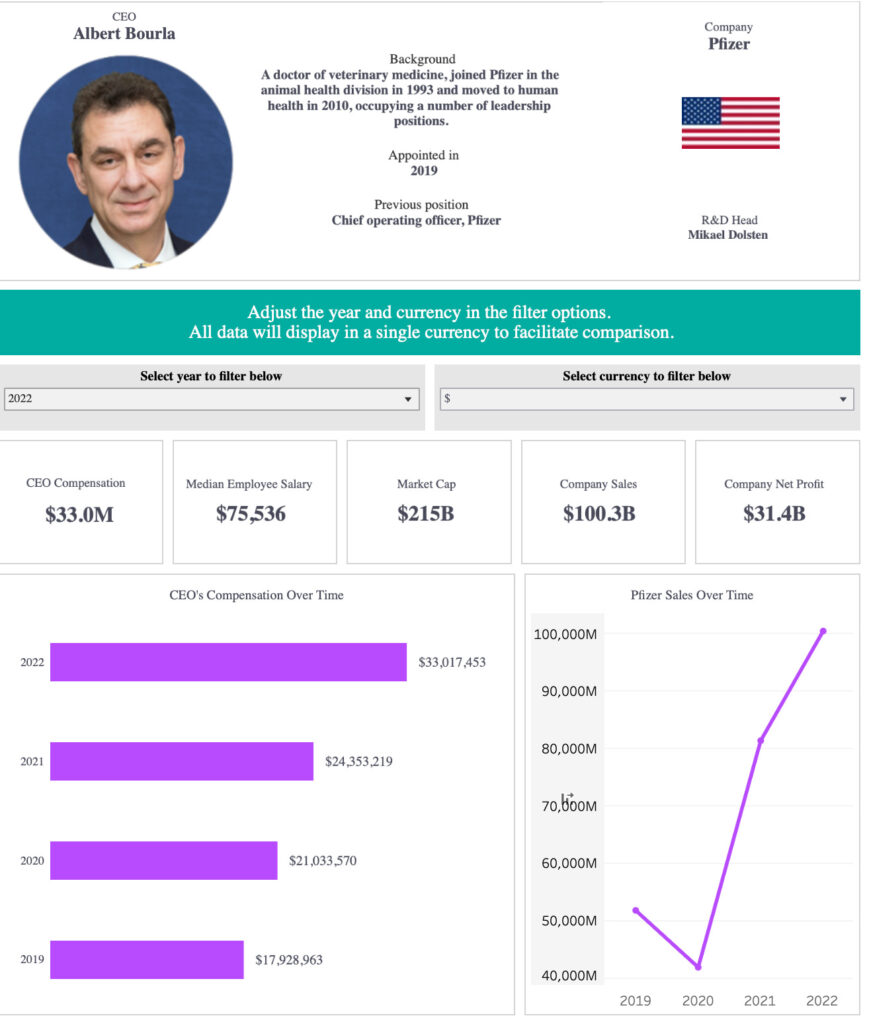 During his tenure as Pfizer's CEO since 2019, Bourla collaborated with both the Trump and Biden administrations, as well as numerous other countries, to secure substantial financial gains by arranging deals in which Pfizer offered a "free vaccine." This strategy effectively shifted the financial burden from Pfizer onto taxpayers, resulting in the redirection of billions of dollars from multiple nations' treasuries. Notably, Pfizer reaped all profits from vaccine sales, contributing to its remarkable financial success year after year.
The bulk of Pfizer's profits during the pandemic were derived from their mRNA vaccine and Paxlovid, horse pills associated with Covid-19 treatment. Excluding the Covid-19 context, Pfizer would not have achieved any net income since 2019.
In exchange for the significant taxpayer funds, Pfizer was expected to deliver an efficient and effective solution to counter the effects of the virus. However, Pfizer is alleged to have manipulated statistics and engaged in deceptive practices to mislead the public. Bourla also played a role in this by indulging in dishonest marketing tactics, repeatedly making exaggerated claims about the efficacy of the Pfizer mRNA vaccine as if it were a definitive cure for the coronavirus.

Their purported "vaccine" not only lacked any positive outcomes or proven ability to mitigate minor symptoms, but it has also exhibited an unparalleled range of side effects.

Regrettably, Bourla is not the sole pharmaceutical executive who has amassed significant wealth by marketing questionable products.
Stephane Bancel, the Chief Executive Officer of Moderna, became a billionaire amid the Covid-19 period, largely due to his substantial ownership in the company.

In addition, Bancel also earns an annual salary of nearly $20 million, according to information from In Vivo.
Meanwhile, vaccinated recipients are now suffering from multiple adverse effects…